I like to tell people who say they don't have time for "organized religion" that in fact it's pretty disorganized. Boring rituals? Trouble getting a congregation together? Difference over dogma and ritual? This piece from slate.com by Lee Ann Kinkaide suggests that our pagan friends suffer from the same problems. MP+
In a grove near you, pagans are gathering to celebrate Samhain, the night when the veil between the living and the dead, between this world and others, is thin. We will wear cloaks and have ritual daggers, called athemes, at our waists. The prerequisite silver jewelry will gleam in the firelight. Natural fabrics flow as freely as the mead. There will be an unfortunate excess of tie-dyed material. In other words, we will look most like your picture of witches.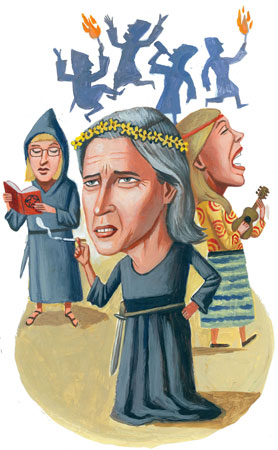 This picture leaves out an important detail, and I don't mean the whole human-sacrifice-and-stealing-Christian-babies thing. Planning a ritual, whether it's for Halloween or any other holiday, is a conflict-filled battle. It's like trying to herd jack rabbits on horseback. Those who practice witchcraft tend to be strident nonconformists, and the very nature of paganism, which has no unifying body or text, means that we have no obligation to believe the same thing or listen to anything beyond the dictates of our own consciences to unite in perfect accord. Often we flow together, achieving unity in which we are transported beyond ourselves, connected with the earth we love and the energy we feel from it.
And just as often, we don't.
Read the whole article
here
.