A colleague here at the Canadian Forces Chaplain School and Centre was reviewing our new chaplain history curriculum and asked me why our first African-Canadian chaplain was not included. Because I didn't know the story, I said, and now I can share it with you.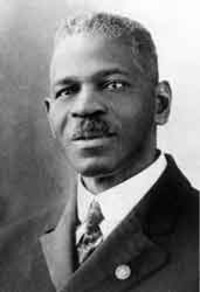 The Rev. William Andrew White was the Baptist pastor of a black congregation in Truro, Nova Scotia when the Great War began. American by birth and the son of former slaves, White came to Canada through the network of the African Baptist Association and attended seminary at Acadia University in Wolfville.
African Canadians were not allowed to enlist in the Army until 1916, when the government authorized
No. 2 Construction Battalion
, consisting of black soldiers led by white officers. Rev. White actively recruited for this unit, and half of its strength came from Nova Scotia. White was appointed as the Battalion chaplain was the only African Canadian to be commissioned as an officer during World War One.
The Dictionary of Canadian Biography
gives this account:
Some members of the battalion trained in Windsor, Ont., and the rest in Pictou, N.S., and later Truro. In March

1917 the unit embarked for England. They were attached to the Canadian Forestry Corps (Jura Group) and relegated to the status of "company" because they were about 300 men under strength. In May they were sent to eastern France, where they worked alongside white troops during logging and milling operations but were segregated the rest of the time. Their chaplain had a hard row to hoe: white soldiers would not accept his ministrations, even when they otherwise lacked the services of a clergyman. Nevertheless he was an unmitigated force for good across racial lines. Such were his courage, moral authority, and physical stature that he once interposed himself between his unit and a group of white men to avert a riot.
Given the racial prejudices of the day, it was a significant step for the Chaplain Service, thanks to its director, John Almond, who was progressive for his time. Almond had tried to send an Anglican Metis chaplain to serve Canadian Indigenous detachments scattered through France, but his request was turned down by CEF Headquarters which disapproved of "roving commissions". Almond had also wanted to send a Jewish chaplain to France, but HQ likewise objected, claiming that "there were no concentrations of Jewish troops large enough to merit [their own chaplain]" (
Duff Crerar, Padres in No Man's Land, 2nd ed, p. 68
).
Padre White survived the war and died in 1936. His CEF record may be found
here
. He deserves to be better remembered as a significant figure in the history of the Royal Canadian Chaplain Service.