This article is part of a series I am contributing to the newsletter of the Anglican Military Ordinariate, the clergy of the Anglican Church of Canada serving in the Canadian Armed Forces, as part of an ongoing celebration of the centenary of the Great War.   The complete edition of the newsletter for Easter 1916, as well as past versions, may be found here.  MP+
By Easter 1916, the Canadian Army in France had finished its apprenticeship of war and was starting to gain its reputation as an aggressive, modern force of shock troops.  With 36 combat battalions in three divisions in the line in France, and a Fourth Division soon to join them, Canada was hitting its stride of near full mobilization.   Its armed forces had doubled since the Canadian Expeditionary Force had first formed in 1914.   The CEF now included within its ranks specialists in tunnelling for the cat and mouse game of laying and detecting vast subterranean explosives planted under enemy trenches, while aggressive Canadian raiding tactics, first by night and later by day, had been approvingly noticed by the British Commander in Chief, Sir Douglas Haig.
France was not the only theatre of operations.   Canadian medical personnel operated in the Middle East, and two hospitals had been established at Mudros, a barren section of the Greek island of Lemnos (modern Limnos), to support the failed operation at Gallipoli.  Personnel and patients there suffered cruelly from inadequate water and rations, weather and disease, including scurvy.  The war diary of one of these hospitals conveys a sense of hardship in this one entry:  "Sickness among Officers, Nursing Sisters and men becoming prevalent.  Admission to Hospital of dysentery cases increasing daily.  The fly menace is very great, also the dust, and poor food supply very trying".   It was at Mudros that Mary Frances Munro died,  the first of 47 Canadian nursing sisters to die in the Great War.  A native of Ontario and a graduate of Bishop Strachan School in Toronto, she died of illness and is among the Canadians buried at the Portianos Commonwealth Cemetery on Limnos.
Canadian military medical staff on Lemnos, ca 1916, from a Globe and Mail article, 2015.
Even in England, far removed from the hardships of Mudros, chaplaincy was challenging.  George Wells, the Anglican padre assigned to Shornecliffe military district, worried about how the Canadian soldier was "getting a very bad name" because of the temptations to "immoral behaviour" in "objectionable houses" and from those "soliciting in the streets".  Wells worked hard to protect his soldiers, "those who were the pawns of war".  His attempts to have such establishments put off limits were not sympathetically received by senior officers, who tended to blame the troops' bad behaviour on the inadequate moral influences of their chaplains.  As Duff Crerar notes, the padres working in training camps faced an uphill battle.  Alcohol was easily obtainable, leadership was heavy handed, routines were tedious, and mandatory church parades were widely hated.  Social work in such conditions was especially challenging, but Wells had some success in championing unwed English mothers and getting Canadian soldiers to take responsibility for them.  In the near-Victorian morality of the period, one has to see this as an especially fearless and prophetic ministry.
For the CEF in the trenches, April 1916 was a cruel month.  Following the German offensive at Verdun, there was great emphasis on offensive action to relive the pressure on the French Army.  Just south of Ypres, Canadian troops were committed to a battle that became known as the St. Eloi Craters (27 March – 16 April 1916).  Four large mines were detonated under the German lines, but instead of the hoped-for breach, vast craters were created in the soggy landscape, complicating maneuver and navigation in the dismal landscape.   While some ground was won, the battlefield was "under constant enemy shelling, and men had been forced to crouch in mud-filled ditches and shell-holes, or stand all day in water nearly to their waists with no possibility of rest".   During a relief in place under these appalling conditions, the Canadian 6th Brigade was caught in a German counterattack while badly strung out and not in defensive positions.   The Canadians were thrown back with heavy casualties, and the ground was retaken by the Germans.   The battle dragged on for days as an artillery duel before it ended, leaving 1,373 Canadians killed or wounded.  The Canadian official history describes St. Eloi as a "fiasco", and its costly lessons were taken to heart in future trench offensives.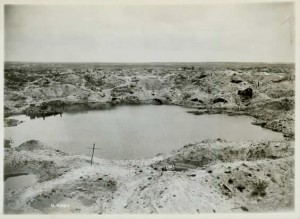 One of the St. Eloi Craters, Canadian War Museum
 One of the regiments hard pressed in the St. Eloi battle was the 6th Brigade's 29th (Vancouver) Battalion.   Its chaplain was an Anglican, the Rev. Cecil Caldbeck Owen, a graduate of Wycliffe College and the Rector of Christ Church, Vancouver (today's Christ Church Cathedral).  Owen, a vigorous man in his middle age, and widely popular in Vancouver, had long been a militia chaplain, and he went overseas with the newly formed 29th BN in May of 1915.  His 22 year old son Harold was by then already in France as an infantry officer.  
Padre Owen (right) with his son, Harold, in front of the Christ Church rectory, Vancouver, 1915, from Living Stones: A History of Christ Church Cathedral
 Christ Church granted Owen leave to serve in the CEF, and despite worries about his parish's finances and attendance, he gained a reputation as a dedicated front-line chaplain.  He would have gone into action at St. Eloi still coping with grief, for his son Harold had been killed in action on 1 February, 1916.  Owen made a three hour journey on horseback to be present at Harold's funeral, and like his colleague Canon Scott, continued in his ministry after losing his son to the war.    After the war, Owen served as a hospital chaplain in Vancouver, and was present at the dedication of the Vimy Monument, where he spoke of how "We must educate our children in the finer aspects of courage and sacrifice which emerged during the war so that they will remember the heroism and the deeper lessons which should have resulted from it".  Sadly, war would ask another sacrifice of him.  Owen's adopted son Luder Keshisian, an Armenian refugee, was an RCAF pilot in the Second World War, and was killed over Germany in June, 1944.   Padre Owen died in Vancouver on Christmas Eve, 1954, 
For those troops not in the line, Easter Sunday 1916 (24 April) happened to coincide with St. George's Day, which was not lost on troops of English heritage.  Canon Scott, in the Ypres Salient with the First Division, describes how the engineers "built me a church, and a big sign over the door was first used on Easter Day … and we had very hearty services".  For those Canadians in the nearby town of Poperinghe, like the Queen's Own Rifles  which observed Easter Sunday with a church parade, there was the possibility of a visit to Talbot House, an all-ranks refuge created by an enterprising English Anglican, Padre "Tubby" Clayton.  
Talbot House, or "TocH" as it was known, offered soldiers a chance to worship in the chapel upstairs (which rocked alarmingly when packed with men) or to remind themselves of civilian life in the comforts of its drawing room and garden.  Visitors first saw a sign enjoining them to "Abandon rank, all ye who enter here".  Padre Clayton knew the Canadian chaplains like Canon Scott, and welcomed many Canadian visitors.  He wrote that "Canadian churchmanship impressed me not a little.  For six months in 1916 a Canadian sergeant-major was the Vicar's warden; and it was he who most appropriately welcomed the Archbishop of Canterbury on his memorable visit to the House early that summer.  Almost the first Canadians I saw were two tunnellers, who on a weekday morning set out from the old French dug-outs beyond Vlamertinghe at 5am and arrived at the Chapel for the celebration (then at 6:30 on weekday), having heard that the service was held daily, and being quite prepared to forgo their chances of breakfast at the end of a ten-mile walk."  
While TocH was a refuge, it was not a shelter.  Poperinghe lay within the Ypres salient, and as Clayton wrote, shells "crossed and recrossed the roof from three points of the compass".  The congregations who knelt and prayed in TocH's small chapel had to return to an even more dangerous front line.  A long war and uncertain survival still lay before them.    For padres like Clayton, all they could do was to try andfind these momentary places and times of grace for the troo, and commend the men to God in the terrible battles to come.
Padre Michael Peterson+