As the daily temperatures drop and winter approaches on icy feet, I find myself retreating into pleasant memories of this summer, including things I haven't managed to blog about yet.
In August I was lucky enough to get a spot on an Adventure Training trip to Alberta's Rocky Mountains, in the Kananaskis region. Adventure Training is army speak for going on a rather strenuous holiday at taxpayer's expense, so to you, the Canadian taxpayer, my thanks.
Our leader was Major Charlie McKnight, a qualified mountain warfare instructor who knows the Rockies as well as anyone, so we were in excellent hands. Three non-commissioned members, myself, and another officer signed on to do three peaks in three days, all of us thinking that mountains were kind of tall and steep, but not doubting we could do this thing. After all, the climbing we would be doing is called "scrambling", which is not technical climbing with ropes, pitons, and the like. Even so, it was more than a walk in the park. As the Major said several times in a jovial but serious way, "Pay attention to me, because mountains can kill you." We paid attention. It turned out to be one of the most rewarding and challenging things I've ever done.
Our first climb was a peak known as
Windy Tower
, an imposing looking slab of rock when seen from the parking lot. The first few kilometres were along an almost unforgiving forest trail that had me stopping and wheezing every few hundred metres. It only took us an hour on this trail to be thankful for the trekking poles we were instructed to bring. They proved invaluable in propelling us upwards.
Our lungs and body soon acclimated and within a few hours we had cleared the treeline. As we climbed, Spray Lake, a large and long lake beneath us, steadily grew smaller. As we neared the summit, we learned why the peak was named Windy Tower. Despite the warmth of the summer day we had felt earlier, on the summit we quickly broke out jackets and fleece vests, and I had to jam my hat firmly on my head to keep it from blowing away.
Resting and sheltering from the wind at the top of Windy Tower. Spray Lake lies beneath us.


Dave Williams admires the view from Windy Tower. I couldn't bring myself to accept his offer to sit beside him, it was too far down.
Me looking self-satisfied at the top of Windy Tower:





At the restaurant that night, the only part of me that didn't feel destroyed was my appetite. It was all I could do to shuffle to the barstool-type seat at our group's table, and the climb up exhausting, but the food (no beer or alcohol allowed) was heavenly. Then back to our spartan accomodations at Trail's End Camp near Cochrane, AB, at the facility the British army uses for adventure training and kindly leant to us.

Our goal the next day was The Fortress, near Canmore, AB. At 9,843 ft or 3000m, it ranks as the 262nd highest mountain in Canada.





Our approach route had to be improvised at the last minute by Major McKnight, since the path he had wanted to take was closed due to bear activity. He found us a route that followed a logging road for several kilometres, then took us along a forest path that skirted several avalanche routes. The Major pointed out several places where recent avalanches had damaged and carried away trees. Seeing a massive tree trunk smashed to kindling made me respect what an avalanche can do.

Between the treeling and the base of the summit, we had to navigate two short cliffs, called headwalls. After struggling up them on paths that sometimes seemed vertical, we were greeted by wondrous sights, two small hanging valleys, each with a waterfall-fed lake. This one, as I recall, was stocked with fish for any hardy angler that might lug a pole up to it.




Me looking tired but still self-satisfied on top of The Fortress. The little stone statues, inukshuks, were everywhere on the mountains.






Our final day's climb was Mount Yamnuska. As seen in this picture, our route would take us up to the base of the mountain and then its right flank to climb it from behind. Coming back down, we would circle the mountain from behind, come around its left flank, and the descend the scree slopes in the centre of this image, following the white paths you can see in the centre.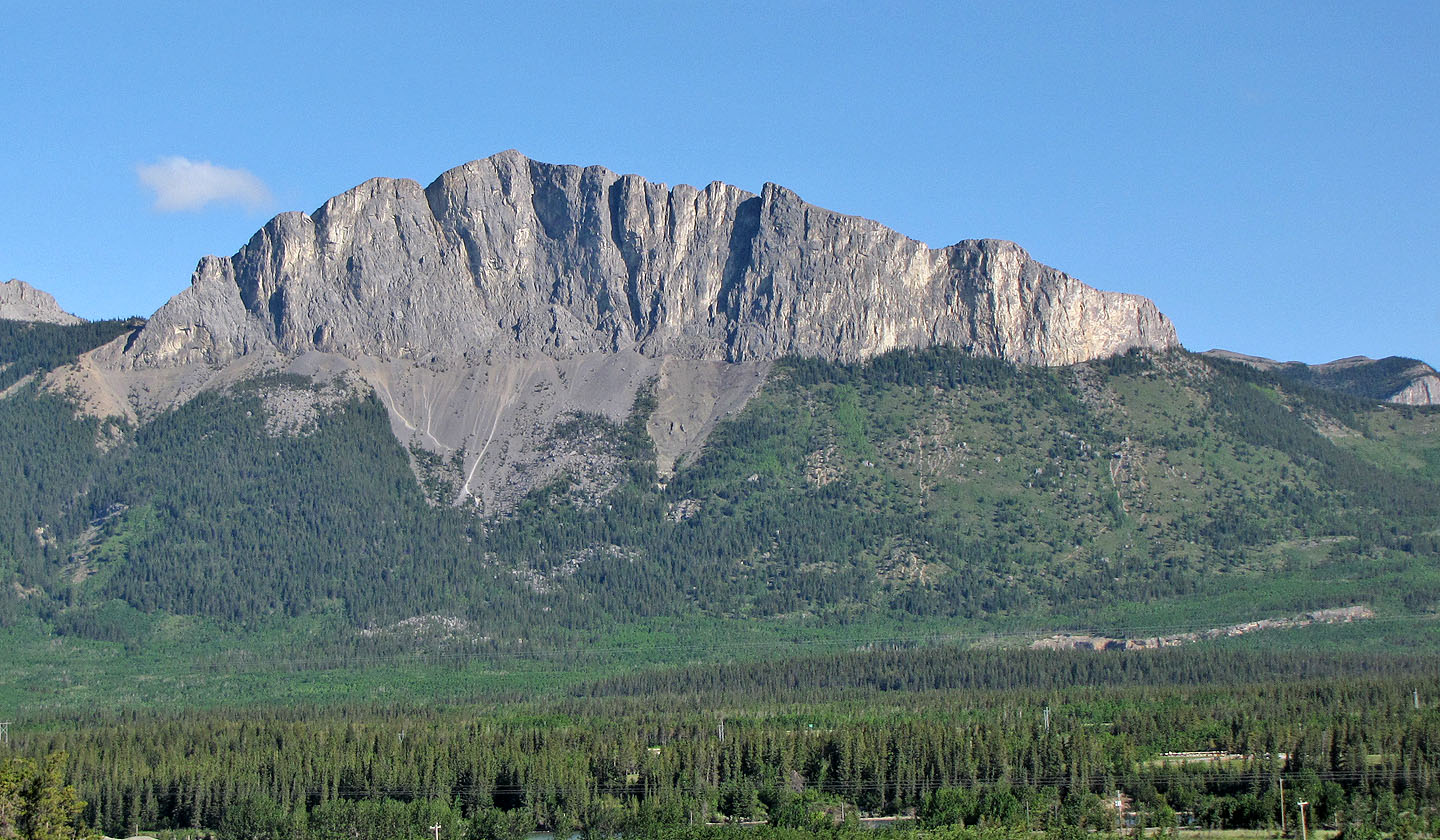 Yamnuska had some interesting features, including an ascent of several hundred feet through a moderately challenging chute of rock. In this picture, Maj. McKnight is working his way up after carefully watching us all ascend.




Another challenging section was a ledge, about five feet wide in sections, several hundred feet in length, that had to be traversed with the aid of a stout cable at waist height. The cable and one's balance were all that prevented a nasty and almost certainly fatal fall, so it took a bit of concentration. This is Dave Williams crossing the ledge.





After a trip of about four hours up, our team at the top of Yamnaska. Back row: Master Bombardier , Major Charlie McKnight, Corporal Nick Gervais, Corporal Klayton Heal. Front row: Captain Dave Williams and myself.


Our descent was quite a bit faster because of the scree slopes I mentioned earlier. A mountain looks subtantial from a distance, but in reality it is fighting a losing battle against gravity, weather and erosian, and much of a mountain is in small pieces. Below Yamnaska were long slopes of small rock which cushioned and absorbed your impact as you ran and leaped down them. Maj. McKnight called it "running on the moon" and he showed us the way, making long, graceful leaping steps that ate up hundreds of metres in just a few seconds. This is me, looking considerably less graceful.
We had started the climb at about 08:00, and by mid afternoon we were all safely down. Three climbs in three days left us in various degrees of stiffness and agony, and I was walking like a man in his nineties. But for those of us who were new to the mountains, we had seen and done things that were incredible. It's hard to relate the sense of engaging with these peaks that look impossibly grim from the highway, learning their secret routes, and gradually realizing that you have ascended to what seems like the highest point in the world. From these heights, you have a sense of how incredibly fragile the human body is against sheer height, empty space, and rock, and yet how beautiful the world is. For Major McKnight, a man as comfortable in this world as in his own backward, we all felt enormously grateful for his leadership and oversight, and for me at least, some of his enthusiasm rubbed off. I will be back to the mountains this coming summer, I am sure.