H/T to my friend Padre Mike Gibbons for this story from the Huff post. MP+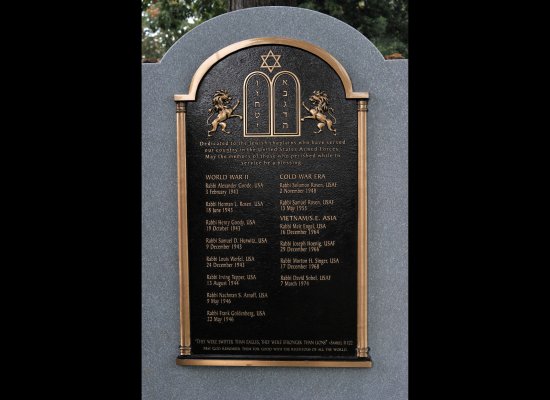 The face of the Jewish Chaplains Memorial that was dedicated Oct. 24, 2011 at Arlington National Cemetery in Arlington, Va. The memorial, that stands on Chaplains Hill in the cemetery, is dedicated to the 14 Jewish chaplains who have died in service to the U.S.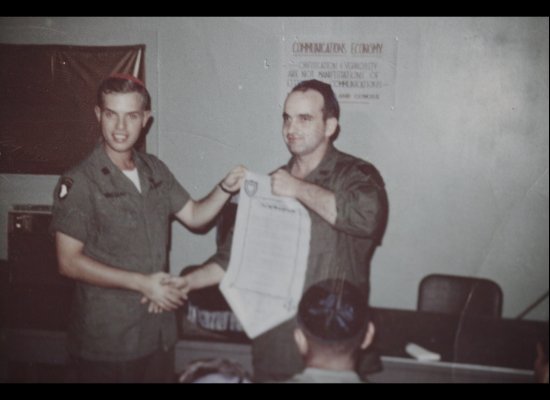 In this family photo released by the Silberberg family, Rabbi Morton Singer, right, is seen in 1968 at Fort Sill, Okla. Singer was killed in a plane crash in Vietnam while flying to observe Hanukkah with Jewish soldiers. He was serious in his commitment to help American soldiers worship in wartime. Until recently, his name, and those of 13 other Jewish clergymen, were absent from monuments at Arlington National Cemetery that honor more than 240 other fallen military chaplains.
By Adelle M. Banks
Religion News Service
ARLINGTON, VA. (RNS) In a ceremony steeped in Hebrew prayers and military hymns, a monument to Jewish chaplains who died in active duty was unveiled Monday (Oct. 24) at Arlington National Cemetery.
"They are unrecognized heroes of both Jewish and American life, but today we begin the process of publicly acknowledging their contribution and their ultimate sacrifice," said Allan Finkelstein, president of the Jewish Community Centers Association, which sponsors the council that endorses Jewish military chaplains.
The cemetery's Chaplains Hill has been home to three monuments -- one for World War I chaplains, another for Protestant chaplains from the two world wars and one for Catholic chaplains from World War II and the wars in Korea and Vietnam.
The newest addition honors 14 Jewish chaplains who died in combat, in accidents or of natural causes. They include one who traveled thousands of miles each month to reach Jewish military members in isolated areas in Alaska. Two others perished in plane crashes on their way to conduct Hanukkah services for military personnel.
Retired Rear Adm. Harold L. Robinson, director of the JWB (Jewish Welfare Board) Jewish Chaplains Council, said the memorial reflects the unity of the U.S. military's chaplain corps.
"To have that uniqueness not represented at Chaplains Hill fails to represent one of the gems of American life," said Robinson, a retired Navy chaplain. "Now we visually symbolize that on Chaplains Hill."
Read the whole story
here
.